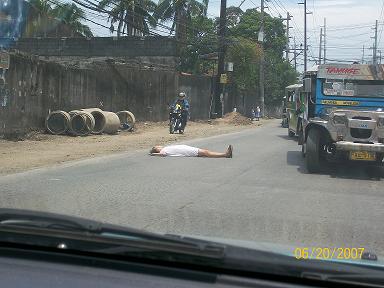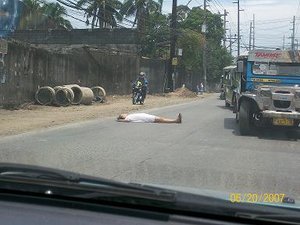 While I'm trying to arranged my photos at my Notebook because obviously sobrang dami na nia!! hehe!! So i just arranged in by category,.
Anyway, while doing that, unfortunately i saw these photos which i took sometime of june 2007, while im still working at my oprevious company as a Sales Manager, my boss ask me to with the guy who knows some good areas for stall that perfect for our products. as far as i remember this was take n far area of novaliches quezon City.
I'm holding my digicam at that time because i need to take the photos of stall so my boss can see it and check it for his approval. I noticed it was quite traffic at this area . We don't know why but only to find out this old lady was lying on the road and we don't know why if she is trying to commit suicide or she was just suffering menatlly illness.
Well, when i saw this. I just knew how Philippines was so having a hard to cope up regarding proverty. Because as my opinion,one of the reason why Filipino suffered on mentally illness was because of poverty.
Hayy, hirap mabuhay talaga!! I pity the old lady!! Sad!!